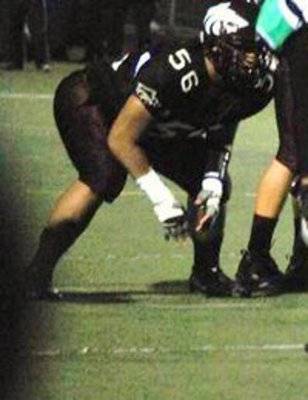 Brandon Tuliaupupu is a 3-star DT out of Claremont, CA. Originally a Washington State commit, Tuliaupupu switched to the in-conference Bruins on NSD. Reportedly, the Bruins recruited him as an offensive guard, a position he also played in high school, but I anticipate he comes into summer 2011 as a defensive prospect, despite our dire need for offensive linemen.
He's got great size, reported at 6'2", 305 on NSD, and he "doesn't look like he has any fat on him", according to Coach Neuheisel. He's powerful coming out of his stance, and although he's not the type that'll spend a lot of time in the backfield, he will collapse the pocket with a bull rush and shut down running lanes.
As mentioned earlier, the defensive tackle position is very young but very strong for the Bruins. Both McReynolds and UNC transfer Brandon Willis will challenge Marsh and Epenesa for starting roles before Tuliaupupu will. He's a solid, not spectacular, defensive tackle and should challenge for playing time in 2012 or 2013.