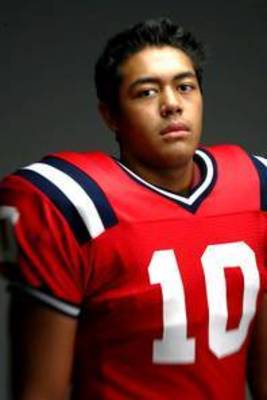 Sam Tai is a 3-star DE out of Henderson, NV, who, like Hundley, committed early and is already attending school at UCLA. Arkansas made a run at Tai as well, but he committed fully to the Bruins back in November.
At 6'4", 235, Tai desperately needs to bulk up at least 15-20 pounds, and enrolling early at UCLA for spring practices and a college workout program will only help. Tai is very athletic, having played QB in high school and has shown great closing speed on the ball.
Since he took a lot of reps at QB in high school, he certainly needs time to develop his pass rush arsenal into more than just rips inside and work on creating separation from the blocker. His cousin, Haloti Ngata, plays for the Baltimore Ravens, and Tai could certainly learn a thing or two from him.
Tai is very athletic, which will work in his favor as a DE, but until he bulks up to defensive lineman size, he won't have the chance to contribute much. The Bruins have some great ends in Datone Jones and Owa Odighizuwa with quality backups, so I don't expect Tai to push for playing time until at least 2013.