Six-time Pro Bowl safety Troy Polamalu dislikes personal praise so intensely, it was no surprise to anyone who follows the Pittsburgh Steelers that the loudest critic of his fellow players' recent decision to vote him their team MVP was Polamalu himself. Polamalu is such a genuinely humble and spiritual man, he could also do without any more talk about what's come to be known as "The Polamalu Effect." In fact, "I'd rather not talk at all," he recently told an interviewer.
[+] Enlarge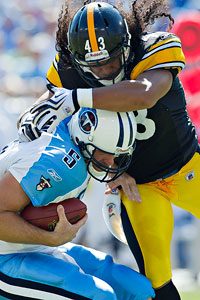 Wesley Hitt/Getty ImagesTroy Polamalu makes the Steelers' defense look better when he's on the field, and it's not just because of his hair.
We're here to help. With all the Steelers -- not just Polamalu -- about to be staring down the barrel of more over-the-top attention when they arrive in Dallas on Monday for Super Bowl XLV, their third trip to the title game in six years, we decided to marshal a team of stat geeks, NFL insiders, game-tape decoders and testimony from other NFL players in the three days since Pittsburgh beat the Jets on Sunday for the AFC title. Their mission: See if there isn't indeed a way to leave the poor guy alone already, and prove the Polamalu Effect is breathless hooey.
Isn't that right,
Trent Dilfer
, victorious quarterback in Super Bowl XXXV, now a crackerjack ESPN TV analyst who still goes bleary-eyed dissecting game film (for fun!). Dilfer constantly mines the brains of coaches and players around the league. So what does Dilfer think of the Polamalu Effect?
"Well, I'm from the [no-nonsense] Bill Parcells mode," Dilfer began.
Excellent.
"And I really, really try not to just throw around words like 'great' and 'the best!' and 'fantastic' and 'unstoppable' as much as other people," Dilfer added. "I just don't believe in it."
Just the kind of guy Polamalu and I are looking for!
"But I have to tell you, I've played against Troy, I've studied him, and I can't find any flaws that jump out," Dilfer said. "I have yet to find something in Troy that you can [use to] neutralize him. … So, to me, no -- it is not possible to overstate his greatness."
Perhaps I wasn't clear.
Not. What. We're. Looking. For.
The statistic that's most often thrown out to support the Polamalu Effect is the Steelers' record. They are 6-7 in games Polamalu has missed over the past two seasons, but an eye-popping 16-4 in games he has played. That seems like a crazy impact for a non-quarterback to have, right?
Surely an examination of the Steelers' win-loss record without Ben Roethlisberger, who will tie the great Tom Brady's total of three Super Bowl rings if Pittsburgh beats Green Bay, will show that -- why, um … Huh. The Steelers actually have a winning record (3-2) without Roethlisberger the past two seasons but they were minus-one without Polamalu. That's a two-game swing. And the pattern is the same if you look at Big Ben's entire career: Pittsburgh is plus-two (7-5) without him.