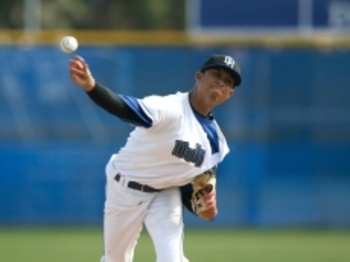 Like Brown,
Peter Tago
is a product of the 2010 draft.
Tago is also in a similar situation to Brown, signing too late to see any playing time, which means that it will be close to nine months before we get to see him on a mound for the Rockies.
Still, the Rockies feel like they got their $983,000 worth with the six-foot-one right-hander. Tago featured one of the more electric fastballs of any high-schooler in the 2010 draft, one that can reach up to 96 mph. It sits more comfortably in the 91-94 range, but he can dial it up, especially early on.
One problem that the Rockies, as well as scouts for other teams saw in Tago, is that he tends to lose velocity as the game wears on. That could be some fault of his own 165-pound frame, so Tago will need to bulk up a bit to build his stamina.
And considering he's of Samoan descent, that shouldn't be too big of a problem.
The next thing Tago needs to work on is improving his curveball. It looks sloppy at times, and some wonder if maybe he would be better of scrapping the pitch, possibly for a slider.
His changeup also needs some work, but seeing as how his fastball was too much for most California high-schoolers to handle, he didn't really have the opportunity to use it that much.
If Tago can sharpen his command, improve his breaking pitches and build some stamina, he could find a nice home in the No. 2 or 3 spot in the Rockies future rotation