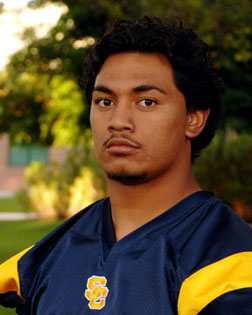 Asiata is a potential backup running back who could provide some value in short yardage and goal line situations with his thick build and good power. However, he lacks the top-end speed, elusiveness, vision, and pass-catching ability to be considered a future three-down starter. Is a good inside runner and can get low and drive the pile but does not show patience or great instincts. Can gain yardage after contact and break some tackles but isn't going to rip off long runs or hit the seam for six. Protects the pass but isn't a productive receiver. Asiata's could hear his name called in the seventh round.
Fua has the ability to contribute as a two-down wave player. Does not project to provide enough value as a pass rusher and runs out of gas during long drive and late in games. Will help out against the run, firing off the ball, staying low, establishing good position and holding up at the point of attack but isn't going to chase down many plays. Pass rushing could improve with more active hands and the addition of some more moves. Fua's solid against the run and shows enough effort to get selected in the middle rounds.
Helu has enough size and speed to serve as a backup but probably won't be a full-time load back in the NFL. Isn't your prototypical inbetween-the-tackles or game-breaking back. Runs hard but doesn't pick up as many yards after contact as you'd like to see. Can get to the perimeter and get headed vertically but doesn't have home-run speed or great elusiveness. Somewhat of a liability in passing situations. Not a polished route-runner, hands are only average, and doesn't protect the passer with much technique or passion. Helu's still a big back who can run and should be selected on Day 3.
Havili is a dynamic fullback prospect that is a matchup problem as a receiver out of the backfield. He runs well for a bigger back and is an advanced route runner with very strong hands. He has the athleticism to split out wide, shows good explosion off the line and has enough of a wiggle to be a threat after the catch. He does not have the strength or desire to be a lead blocker and appears to be a one dimensional player. Havili will need the right scheme to contribute at the next level and he will likely be a third day pick.
Paea is a powerful run stuffer that plays angry and should contribute immediately at the next level. He is as strong as an ox and consistently knocks lineman back on their heels. He takes on double teams and is near impossible to move out of the hole. He lacks refined pass rushing skills, but has heavy hands and a good burst to eventually become a weapon on third down. He is still learning the finer points of the game, but he has unparalleled toughness and a tireless work ethic. Paea will likely not last past the middle of the first round.
Taua is a hard-nosed football player who made a name for himself running all over Boise State in 2010. He is a relentless back that plays with good natural leverage and packs a wallop for would be tacklers. He is also a weapon in the passing game, as he has a knack for getting open on underneath routes and has very good hands and body control. He will not run away from anyone at the next level and he does not always keep the ball high and tight and puts it on the ground too often. Taua looks to be a later round pick.