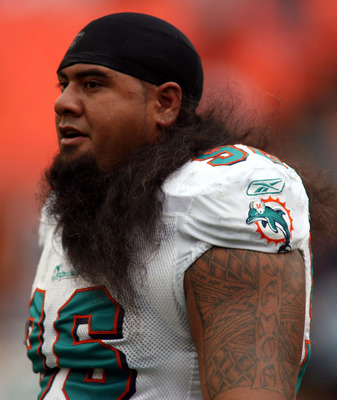 Marc Serota/Getty Images
Drafted in the Cam Cameron/Randy Mueller era of 2007 in the fourth round, Soliai spent his first three seasons primarily as a backup and often in Tony Sparano's dog house thanks to weight and effort issues. (One Miami reporter also told me last year that the guy is "dumb as a box of rocks. Yikes!)
That being said, Soliai always had the potential to be a dominant 3-4 nose tackle with his rare mammoth size, and he finally realized that potential when the Dolphins needed it most in 2010.
After Jared Odrick went down and Randy Starks was asked to move back to right end from nose tackle, Soliai became a full-time starter and did not disappoint.
While his numbers are modest (39 tackles, two sacks) as those of most nose tackles are, Soliai's dominance against the run was apparent. He did an excellent job of fighting off blocks and disrupting the backfield, at times throwing running backs around like rag dolls.
Slated for unrestricted free agency if the league and the union can work out a new CBA, Soliai's agent David Canter has conveyed that they will not be re-signing with the Dolphins prior to the free agent signing period.
It's hard to blame them, as they are looking to cash in on the 27-year-old's breakout season with so many teams desperate for a game-changing nose tackle to anchor their 3-4 schemes.
The Dolphin don't want to break the bank for a guy that has had one good season, but they will certainly have
a void to fill if he does walk. A 366-pound void