Most of the
Baltimore Ravens
had cleared out of the team's locker room one recent afternoon, leaving defensive tackle
Haloti Ngata
ample space to attack his latest challenge.
He eyed wide receiver
Donte' Stallworth
with a contemptuous glare, then tossed a lavender beanbag toward a blackboard halfway across the room. When the bag landed on the board and slid within inches of a small, circular hole in the wood, Ngata smirked like a man certain of his talents. Stallworth may have asked for this latest game of Cornhole, but Ngata darn sure planned on ending it with a victory.Still, the most noteworthy aspect of that contest wasn't Ngata's skill at a game that defensive end
Cory Redding
introduced to the locker room this offseason. It was the unadulterated joy Ngata displayed while bonding with a teammate. For all the notoriety the fifth-year veteran has gained for his on-field dominance, Ngata is really a people person at heart. And it's the chemistry on this 7-3 team that has him most excited about a championship run being part of Baltimore's near future.
[+] Enlarge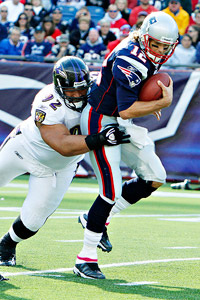 AP Photo/Michael DwyerIn Week 6, Ngata sacked Patriots QB Tom Brady twice.
All they have to do, in Ngata's eye, is keep feeding off the bonds they've established this season."This year feels different to me," Ngata said after finishing his game. "The offense and defense isn't split as much [in the locker room] and we do things together as a team. It really is a great thing to see. Something like this game might seem like a small thing to somebody on the outside, but it really is huge. You see people playing it who might never spend time together."
http://sports.espn.go.com/nfl/columns/story?columnist=chadiha_jeffri&page=hotread11/Haloti%20Ngata