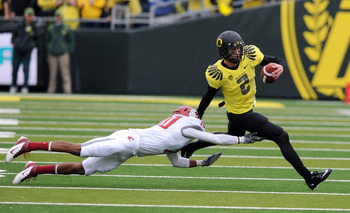 Marcus Mariota has made his mark on this team and could very well become the starter this season over Bennett.
"I think Mariota played really, really good," said Oregon defensive coordinator Nick Aliotti after the spring game. "I'm not a quarterback coach, but I thought he was fantastic."
Mariota threw the ball for over 200 yards and a touchdown, also rushing for 99 yards and two scores with his feet. Bennett had thrown for over 200 yards and a touchdown pass as well. It's pretty clear that Bennett provides the more experience, but Mariota provides the dual-threat ability, which would fit perfect in this high-scoring offense.
"I'm pleased with our quarterbacks," said head coach Chip Kelly."(It's) not a position I'm worried about."