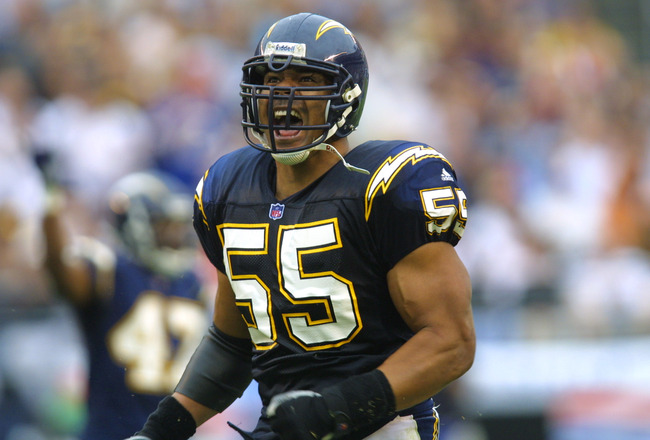 Seau was the fifth overall pick in the 1990 NFL draft—a freakish combination of height (6'3"), weight (248 lbs.) and speed (4.61). But his physical gifts were just a shadow of what made him great. His will to win and his refusal to settle for anything less than his best drove him to terrorize NFL offenses from day one.
At his peak, Seau was the NFL's best linebacker. Incredibly, his peak was a decade long.
Seau made the Pro Bowl 12 consecutive times and was first-team All-Pro six times. Seau was born before man landed on the moon, named to his first Pro Bowl in 1991, was playable in Tecmo Super Bowl for the original NES, made his 12th consecutive Pro Bowl in 2002 and played his last game in January 2010.
It's difficult to overstate Seau's impact on his hometown San Diego Chargers. In fact, it's difficult to state it at all. He single-handedly made their mediocre defenses good and made their good defenses great. Those great defenses sometimes dragged awful offenses to the playoffs and once accompanied a very good Chargers offense to the Super Bowl.
Seau was the lone ranger of a vanishing breed—the game-changing, all-around outside linebacker.
As long as the 3-4 alignment is in use, there will be outside linebackers who can rush the passer like Seau did. But Seau's terrorizing of quarterbacks was paired with a tenacious run defense and excellent coverage.
In 1996, playing only 15 games, Seau notched seven sacks—but per Pro-Football-Reference, was also credited with 110 tackles, 28 assists, two interceptions, a forced fumble and three fumble recoveries. In 2011, the linebacker with the most sacks, the Dallas Cowboys' DeMarcus Ware, had only 48 tackles. The most sacks by any 100-plus-tackle linebacker? The Cleveland Browns' D'Qwell Jackson with 3.5.
The modern game—and yes, distinguishing "the modern game" from the 1990s feels strange—is much more pass-heavy. With offenses passing so much more than they run, outside linebackers are increasingly asked to drop back into coverage—and they must do it well, as offenses are expressly attacking outside linebackers with slot receivers and tight ends as much as 50 times per game.
With defenses deploying nickel and dime alignments so frequently, a linebacker who does his best work behind the line of scrimmage has very little role. Pass rushing enough to garner five-plus sacks while defending the run well enough to notch 100-plus tackles simply doesn't happen—and won't any time soon.
Denver's Von Miller is nearly a physical clone of Seau. Standing 6'3", 246 pounds, Miller's fantastic 4.46 second 40-yard dash time helped propel him to the second overall pick of the 2010 draft.
Justin Edmonds/Getty Images
Denver knew how to maximize Miller's impact. They sent him after the quarterback, over and over. Miller amassed an astounding 11.5 sacks in his rookie season, earning a Pro Bowl berth. But per Pro Football Focus, Miller only had 41 tackles and eight assists. He had a league-leading plus-22.6 PPF grade for run defense, meaning he played the run incredibly well when asked—he just wasn't asked nearly as often as Seau.
Even if the cat-and-mouse game between NFL offensive and defensive coordinators goes back the other way and teams switch more towards a power-run game, we still won't see a player as dominant from down-to-down as Junior Seau was.
From its beginnings in rugby to "ironman" football to Michigan head coach Fritz Crisler's invention of "two-platoon" ball in 1945 to today's nickelbacks and third-down tailbacks, football has always moved towards increased specialization.
Today, players' best traits are schematically maximized, while their weaknesses are schematically hidden. Players aren't asked to "do it all" even when they're capable of it.
It's why players like Von Miller can make an immediate impact, when Seau, the greatest linebacker of his generation, had to wait until the last game of his rookie season to get on the field. It's why we will never see a linebacker mean as much to his unit, or his team, as Seau did to the Chargers.