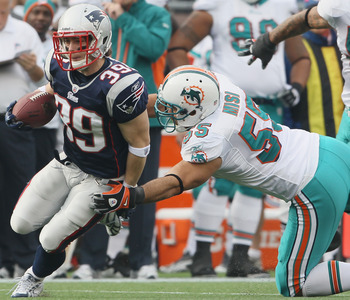 Elsa/Getty Images
When the Dolphins used a top-40 pick in the 2010 draft on LB Koa Misi, what they thought they were getting was a talented pass-rusher.
Two seasons and just 5.5 sacks later, that might not be the case.
After he followed a promising rookie season with an underwhelming 2011 campaign, there are grumblings among fans that Misi could be a bust.
Complicating things are felony assault charges that Misi is now facing stemming from an incident in April 2011. While the Dolphins await the legal conclusion to that situation, they hope to focus on his play on the field.
In 12 games last year, Misi only recorded one sack, one QB hit and four pressures in 113 pass-rushes, according to Pro Football Focus. Not exactly the production Miami was hoping for.
New head coach Joe Philbin has even suggested that the staff may experiment with Misi at inside linebacker. Misi possesses a good skill set and is an adept run defender. Whether he can develop into the pass-rusher he was expected to be remains to be seen, but he has the tools to contribute in other ways.
No matter where the coaches line him up, it's time for the guy to show what he can do. Seeing as Misi is already considered a disappointment by some, 2012 is undeniably a year in which Misi must prove that he can be a quality piece in the Dolphins defense