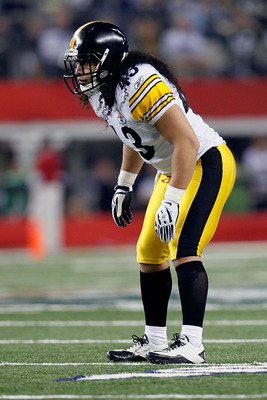 Strong Safety: Troy Polamalu
Career: 2003-present
Teams: Pittsburgh Steelers
Stats: nine sacks, 29 INTs
Achievements: seven pro bowls, five-time All Pro, 2010 Defensive Player of the Year, two-time Super Bowl champion
Runner-Up: Ken Houston
This is probably the first "controversial" pick on this list, but it's justified, especially if you do put several other safeties, specifically Ed Reed and Ronnie Lott, in their appropriate slot of free safety.
Despite the relative shortness of his career, Polamalu fits the strong safety mold better than any player before or since. He's a tremendous pass rusher, he hits with great intensity, he is as likely to catch a ball in the air as any wide receiver in the NFL and, most importantly, he can cover tight ends and the slot receivers that cornerbacks cannot.
Few strong safeties are that diverse and resourceful and few players in today's NFL mean as much to their team as Polamalu means to the Steelers. That's a tremendous litmus test for a player's candidacy for an All Time team.