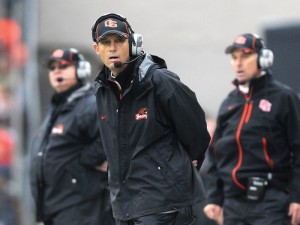 Signing two players from American Samoa is something the Oregon State football team hopes to build on to find more athletes from that part of the world.
Coach Mike Riley went there to have a home visit, tour five high schools, meet coaches and see where games are played.
He found linebacker Rommel Mageo out of Samoana High and defensive lineman Noke Tago from Leone High. Both are raw, but could develop into something.
"We hope this is a connection that continues to grow," Riley said. "That's why I went over there, not only to recruit these guys, but meet these people so you make a connection so when you are recruiting future guys they know more about you and they are more comfortable about where they are sending their kids."
Traveling there took some time. It was another five-hour flight from Hawaii.
However, recruiting them was just like players from the mainland. It starts with sharing video highlights so coaches can evaluate ability.
"In the old days it was really difficult (to recruit far away), but with the way technology is today, we get good film from Samoa," Riley said. "You can evaluate it and they look like athletes. The world has gotten smaller like that. And there are people over there aiding the ability of coaches here to be able to watch that. They are just helping kids get opportunity."
Riley praised the coaches in Samoa, saying that they make the games look like quality football since the sport is relatively new to the area.