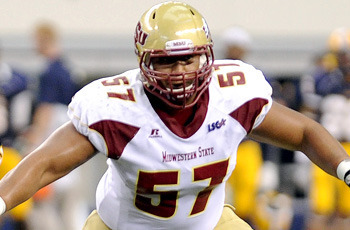 There are always a few small-school NFL Draft prospects you may never have heard of or seen on your television on Saturday afternoons in the fall, but who find the eye of NFL scouts nonetheless. One of the most intriguing prospect in that category for 2012 is Amini Silatolu, a 6-foot-3, 312-pound offensive guard from someplace called Midwestern State.
When I went looking for scouting reports on Silatolu, they all said pretty much the same thing. The one from Wes Bunting of the National Football Post was typical:
"He has some technique flaws that needs to be fixed and will need to kick inside at the next level. However, he's a wide-bodied athlete with a powerful/explosive frame, good foot quickness and can really pull from the backside. Might need some time, but is one of the top guards in the class with as much upside as any."
There's no denying that Amini Silatolu has the size, strength and upside to be drafted, but it's all about him being in the right system with the right coaches who can improve his mobility and technique for him to develop into a professional player.
A preseason Division II first-team All-American, the 6'3", 325-pound Silatolu is in his third year as a starter at Midwestern State and has primarily played left tackle.
But, while he's experienced in handling pass rushers off the edge, his skill set and footwork are best suited to play guard at the next level.
Silatolu could receive mid-round attention next April.