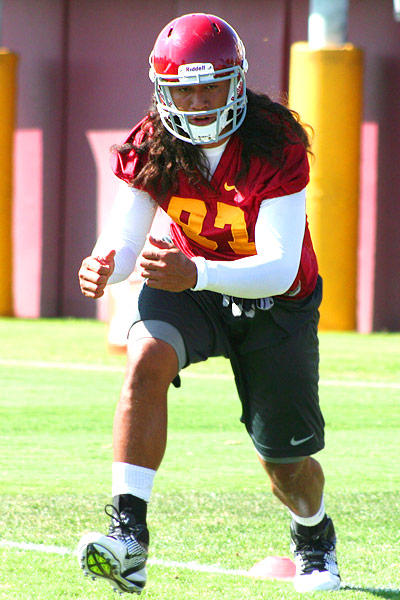 LOS ANGELES -- Junior Pomee's first year at USC was filled with more stops and starts than the 405. But unlike commuters, Pomee is happy to have had the experience.
A broken foot and a redshirt year frustrated Junior Pomee at first, but the tight end has persevered.
Pomee enrolled in summer school classes at USC before his freshman season but was taken out early during the second semester when school administrators found that he needed to complete one more high school math class. After returning home to finish the class, he returned to a USC team deep into fall camp. And just a handful of practices into his career, Pomee broke his foot during the fall's final session.
It was announced that Pomee would sit out the season, and his frustration was evident.
"Thoughts were going through my head like crazy," he said. "I thought, why is this happening to me? It was so frustrating standing on the sideline watching everybody else play football. It can be so boring."
Pomee has never been one to simply accept sitting out. He recalled an incident during his sophomore year at Rancho Verde High School. While playing junior varsity and serving as a backup on the varsity team, coach Pete Duffy would seldom use a young Pomee.
Pomee approached Duffy before a game and told the coach that he wouldn't be available because he had hurt his ankle. When Duffy saw Pomee dunking a basketball afterward, the two came together for a meeting. Pomee now says he understood what Duffy was trying to accomplish, pulling him up to the varsity team but holding him on the sideline. It clicked as he watched his teammates rally to a 10-win season last year.
"I kept wondering why I wasn't playing," Pomee said. "I was supposed to be on the field doing drills with the team. But in looking at how it was from the sideline, I was thinking that what (coach Lane) Kiffin was trying to do to me was the same thing my coach was trying to do to me in high school -- get me used to the atmosphere at first, so when I come out next year playing, I can say, 'Oh, I've been here before. I remember all this from the sideline last year.' "
He has come a long way from early in his true freshman season when he didn't put his full effort into rehab and floated serious rumors about a potential transfer. Several months of perspective and maturation have turned Pomee into a candidate for breakout player this fall.
"I started taking last year as a sign that maybe it wasn't my year and maybe I was supposed to sit out. Maybe I wasn't ready," Pomee said. "I got cleared about a month ago, and I was so motivated to come back, I was running with the team, lifting, going back to the meetings, talking to the coaches and players. Being around the atmosphere again, everything felt great."
Pomee said that in his first week back in training, he was named the team's Lifter of the Week. He made special mention of each of the conditioning staff that helped push him through rehab and when healthy.
"All the coaches were saying, 'He's back,' " Pomee said. "Everybody was yelling that at me. I felt good coming in and working hard every day."
With tight ends Xavier Grimble and Randall Telfer returning after terrific redshirt freshman seasons, it will be a tall order for Pomee to crack the starting lineup. But as he showed in just a few days of fall camp, he has the athleticism to match up with anybody and could help make the position one of the deepest spots in the entire conference. The athletic ability will remain the same from last year to next, but the change in attitude and philosophy will be the biggest difference in Pomee's potential for a successful season.
"I have a different perspective now than I did coming in," he said. "Looking back at it, actually I'm thankful for it. Going through everything, I was hating it, but now I'm happy.
"I'm excited for this year, and I can't wait for everything to happen. I can't wait for practices. I'm ready and excited to move forward. The injury thing is in the past, and I have a different mentality heading into this year."