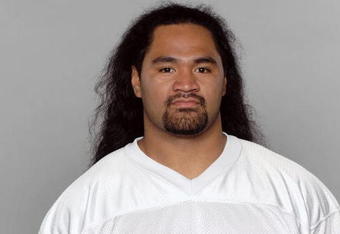 Updated: March 21, 2012, 4:51 PM ET
INDIANAPOLIS -- Colts general manager Ryan Grigson got the center he wanted to anchor Indianapolis' rebuilt offensive line -- and it's not Jeff Saturday.
On Wednesday, the Colts signed Samson Satele, who started 74 career games with the Miami Dolphins and Oakland Raiders. A person with knowledge of the deal says it's a three-year contract worth $10.8 million, with $5 million guaranteed. The person spoke on the condition of anonymity because the team did not announce the terms.
"It's a brand new team," Satele said in a statement issued by Indy. "In talking with coach (Chuck Pagano) and everyone else, it feels like a family. It's a fresh, new start for me and a fresh, new team. I can't wait to get this rolling."
Grigson said Satele "has all the necessary traits to be one of the top centers in the NFL."
"We wanted him, and we got him," he said. "We couldn't be happier that he will now be a Colt for years to come and help us reach our ultimate goal."
The latest move is likely to pave the way for yet another big change in this complete offseason overhaul. Indy went 2-14 last season without Peyton Manning taking snaps, and the Colts landed the No. 1 pick in next month's draft. They're expected to select Stanford quarterback Andrew Luck with that choice.
Saturday has been the Colts' full-time starting center since 2000. He became a fan favorite, a key figure in the NFL Players Association and one of Manning's closest friends. But when the Colts didn't re-sign Saturday last week, he became a free agent. Saturday has already visited Green Bay and Tennessee, and there has been speculation he could rejoin Manning in Denver. He also has been contemplating retirement after completing his 13th NFL season -- all in Indy.
Whatever Saturday decides, it appears he'll be the latest casualty in this rebuilding project.
On March 7, the Colts released Manning. Two days later, they cut linebacker Gary Brackett and safety Melvin Bullitt, both team captains, along with running back Joseph Addai, tight end Dallas Clark and backup quarterback Curtis Painter.
They've also lost receiver Pierre Garcon to Washington.
Last week, Indy signed former Baltimore defensive end Cory Redding to a three-year, $10.5 million deal. On Saturday, the Colts added former Baltimore safety Tom Zbikowski for three years, $5.4 million. They also traded for former Eagles offensive lineman Winston Justice. On Monday, they signed former Philadelphia offensive lineman Mike McGlynn.
Grigson was hired in January from Philadelphia. Pagano also was hired in January after spending the previous four seasons in Baltimore.