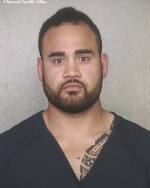 Posted: 1:24 pm March 30, 2012
By Josh Katzowitz | NFL Blogger
Dolphins linebacker Koa Misi has been arrested by Broward County, Fla., police on a charge of battery with serious injury. He was arrested Friday, and his bond has been set at $10,000.
According to the Palm Beach Post, Misi is wanted in California on the battery charge, and he was arrested without incident at his home in Weston, Fla.
"We are aware of the situation and are in the process of gathering information," Dolphins spokesman Harvey Greene said in a statement to CBSSports.com. "As a result, we will refrain from any comment."
In his two seasons in the league, Misi has combined for 75 tackles and 5.5 sacks.
"Misi is a guy that obviously has played very well on the line of scrimmage at the point of attack," coach Joe Philbin said at the owner's meetings in Palm Beach, Fla., this past week. "He's a guy that can hopefully give us continue in certain rush situations to add. He's a guy that we'd like to see in as a third year guy; we'd like to see him emerge a little bit more and be a little more productive and make some maybe more impact plays."