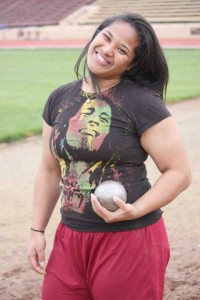 Class:
Senior
Hometown:
Sacramento, Calif.
High School:
Florin HS
Last College:
Sacramento City College
Height:
5-7
Event:
Throws
03/16/2012
2010-11
Outdoor Track and Field: Competed six meets over the course of the outdoor season, all in the hammer throw ... was 15th at the MW Championships with a toss of 161-11 ... made her outdoor debut at the Cal/Nevada Championships on March 26, taking eighth in 155-06 ... was 14th in the open portion of the Sun Angel Classic in 164-07 on April 8 ... took 21st at the UCSD Triton Invitational (April 22) with a throw of 165-10 ... had her best throw of the season and third-best ever by an Aztec in 170-07 in an eighth-place showing at the Steve Scott Invitational on April 30.
Indoor Track and Field: Made her Aztec debut on Feb. 11 at the Don Kirby Invitational ... made the best of her only indoor event, taking fourth in the weight throw with a toss of 53-02.25 ... it was the fourth-best throw in SDSU history.
2009-10 (at Sacramento City College)
Outdoor Track and Field: Held the nation's leading mark (junior college) in the hammer throw while at Sacramento City College ... California Community College State runner-up ... All-American honors ... had bests of 181-00 in the hammer, 135-05 in the discus throw and 39-00 in the shot put ... chose SDSU after being recruited by Sacramento State out of Sacramento City College ... also competed on the soccer team at Sac City College.
High School
Attended Florin High School in Sacramento, Calif.
Personal
Eleveni Fanaika was born Oct. 2, 1990 ... parents are Tevita and Litia Fanaika ... pursuing a degree in psychology and minoring in religious studies.