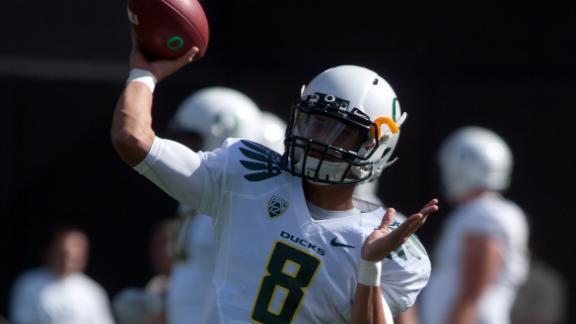 By Joey Holland (Contributor) on April 23, 2012
OK, this one is pretty obvious. Mariota will be hard to miss in Oregon's spring game. Even so, I am really excited about this kid.
At 6'4" and 200 pounds, Mariota has a similar build to former Oregon quarterback Dennis Dixon. What's even more impressive is that he runs as well as Dixon did with excellent 4.5 speed.
Though he is in the middle of a quarterback battle with Bryan Bennett, Mariota is a perfect fit for the Ducks' spread offense. He's got great touch and accuracy with his throws. Receiver Devon Blackmon even said that he preferred Mariota's passes to Bennet's because of his touch.
I've chosen not to include Bennett on this list simply because he showed us all what he is capable of last season in limited playing time.
Mariota has all the intangibles. In only one year as a starting quarterback in high school, he led his team to a state championship. Look for him to continue his success when he takes the field on Saturday.