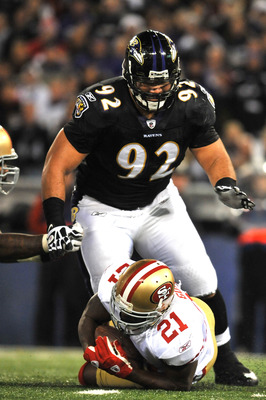 #5 Defensive Tackle Haloti Ngata
Does everyone remember when Mark Schlereth blasted the Baltimore Ravens for drafting Haloti Ngata at No. 12 overall in the 2006 NFL draft? I am paraphrasing here but he basically labeled Ngata as a bust because he allegedly took plays off.
Well if he takes plays off most Ravens fans have not noticed. Neither have the Pro Bowl voters. The Oregon product has started 92 games for the Ravens while collecting 17 sacks, three interceptions and 316 total tackles. He has made three Pro Bowls and has been a major contributor to five Ravens playoff teams.