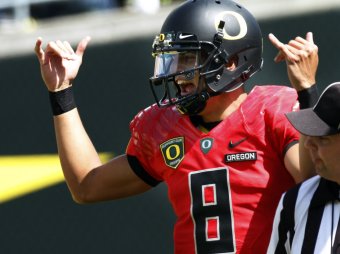 Aaron J. Fentress
@AaronJFentress
24 Aug 12
In the past, the Oregon Ducks roster has affectionately been called a rotating "plug-and-play" depth chart. There's an undeniably accurate sentiment in that assertion considering the history that the Oregon Ducks have had with replacement success.
When quarterback Jeremiah Masoli was suspended from the team, Darron Thomas replaced him and won two conference championships and earned a Rose Bowl victory. When running back LeGarrette Blount was suspended from the team, LaMichael James became his replacement. With James no longer on the team, fans have much confidence in Kenjon Barner and De'Anthony Thomas to replicate last season's critical success.
With Darron Thomas no longer on the team, Mariota has emerged as a rising star in Oregon. As Bleacher Report lead writer Michael Felder observed, there's a lot of shared similarities with the two quarterbacks.
"Chip Kelly, for the second time in three seasons, picked the bright future over the guy who many people expected to start come season's end the year before. First, it was Darron Thomas, now it is Marcus Mariota; and Mariota has some tremendous shoes to fill from a "first-year starter" standpoint."
Regardless, the newly emerged confidence in Marcus Mariota is arguably unparalleled.
In a column by ESPN's Kirk Herbstreit released before Mariota was even announced as the starting quarterback, Mariota was listed as the single "most ahead of the curve" player in the nation.
(AP Photo/Don Ryan)
Once he was announced as the starter, the compliments (including high praise from former Oregon star LaMichael James and editor-in-chief of the Heisman Pundit blog Chris Huston) continued to file in rapidly.