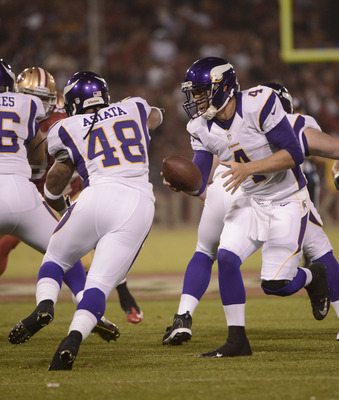 Thearon W. Henderson/Getty Images
Matt Asiata is a surprise; a depth signing that wasn't expected to make waves, he's impressed in the preseason.
Nominally a fullback, he's generally expected to be a lead blocker, especially in the modern NFL.
Instead, Asiata has been atop the Vikings leaderboard in rushing yards, with 91.
He has shown not just the powerful running style one expects from a fullback, but deceptive agility. He's been able to make decisions on the fly very well and fits well into Minnesota's zone blocking system.
Given good blocking, Asiata can generate good yardage on the ground. He has shown the ability to shed tackles and runs well up the gut.
More than just a ball-carrying fullback, the undrafted sophomore out of Utah has shown pass blocking and run blocking capability as well. He has held up well in pass protection, and has even served as an example in offseason practices for having good technique.
Matt Asiata has had a typical NFL journey for unheralded players. In Utah, he averaged 4.5 yards a carry, and scored 24 touchdowns.
He spent a brief amount of time signed with the Omaha Nighthawks of the United Football League, but then signed with the Minnesota Vikings in 2011, eventually making it to the practice squad. He was cut in early 2012, but has signed once more with the Vikings in hopes to make the squad.
Naturally, he hopes to crack the squad again, but if he doesn't, he's going to play in the NFL for another team—the Vikings won't be able to stash him on waivers.
Competing for a fullback spot are presumed favorite Jerome Felton and fellow practice squad holdover Ryan D'Imperio. Asiata's skill as a runner have given rise to rumors that he may compete as a halfback, in which case he would be the underdog against Jordan Todman, who will take a significant number of snaps against Houston in place of the underperforming Lex HIlliard.