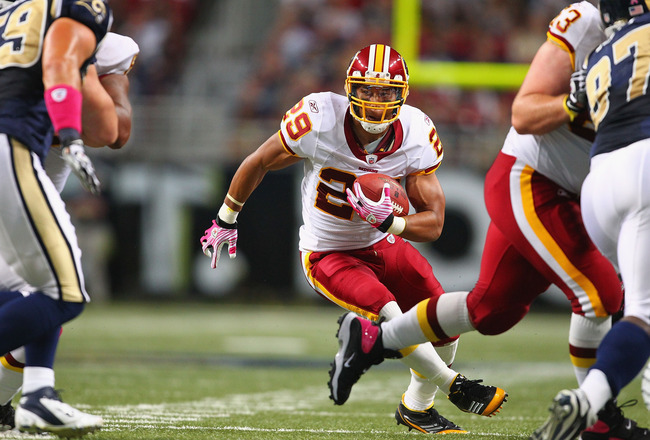 By Hal Nichols (Contributor) on November 6, 2011
Rookie running back Roy Helu Jr. is a virtual unknown outside of the middle of the country, where he made his impact playing for the University of Nebraska. Today, he looks poised to become the latest semi-anonymous running back to burst onto the scene behind Mike Shanahan's zone blocking scheme. Here are five things you probably didn't know about Roy Helu Jr.
Helu's family is from Tonga, a tiny nation of islands in the South Pacific of just over 100,000 people. Tonga lies just to the southwest of American Samoa, the hotbed of NFL talent to which the likes of Troy Polamalu and Junior Seau trace their lineage.
In college, Helu logged five yards per carry or more in each of his three final seasons at Nebraska, and better than six yards per carry as a sophomore and as a senior. This is especially impressive considering Helu was primarily used between the tackles. He showcased the ability to run over larger defenders and run away from the faster, smaller ones.
Helu also showed impressive versatility at Nebraska, running from all imaginable formations, including the pistol, and executing both conventional running plays as well as zone read and option plays. All of that experience in different looks and schemes should be an asset in the NFL, as he should have little trouble picking up new schemes.
At the combine, Helu was one of the most impressive performers at his position, logging a 4.42 forty yard dash at 220 pounds. That combination of size and speed make Helu an ideal back for Shanahan's zone blocking scheme, which rewards running backs who can find the hole and then explode through it. Helu isn't quite six feet tall either, so his compact size is built to run with power.
Helu is perfect for Shanahan's running scheme. Helu's combine report from NFL.com reads,
"Does a good job running behind his blockers and finding running creases. Has more straight-lined speed than most big backs. Can get the edge, stick his foot in the dirt and accelerate upfield."
Almost word for word, that's the textbook description of a successful running back in Shanahan's system.
Roy Helu Jr. should be in for some nice outings in the second half of this season. If history serves as any indication, under Shanahan's coaching, Helu likely won't be an unknown by year's end.