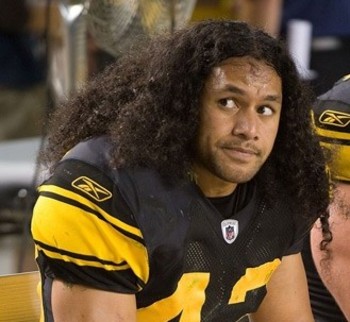 Safety Troy Polamalu
No, that is not a picture of Polamalu's epic Head and Shoulders commercial. Instead, it is him siting on the sideline at a game earlier this season.
By now we all understand that hair is alive, this is why it grow, so it shouldn't come as much of a surprise that Troy's hair continues to grow and will soon own enough territory to gain independence from the United States.
If you have been reading throughout this article and were waiting for an epic Troy Polamalu slide, you can forget about it. Everything that needs to be said or thought is in the picture.