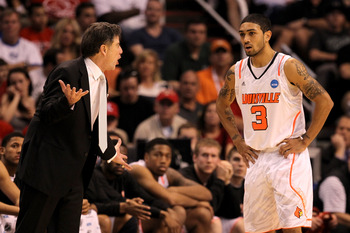 Red Flag: Turnovers
All seems to be going smoothly in Louisville. The Cardinals did not lose any key players to the NBA draft, return almost all of their core for next season and are still coached by Rick Pitino—one of the most exciting basketball gurus in the game.
Despite Louisville's excitement and Top 5 national ranking, there is one issue that could doom the team: turnovers.
Peyton Siva could be the team's best player. There is no doubt that when he is on, the Cardinals are almost impossible to stop. When Siva is playing erratically and practically handing the ball to the opponent, however, the entire team suffers.
Louisville ranked 228th in the country last season in turnovers per game—averaging a whopping 13.8 per contest.
If the team cannot take care of the ball, opponents will capitalize. The Cardinals' mid-season rut in 2011-12 almost doomed their season—something similar could happen next season if Siva and the rest of the team cannot take care of the ball.