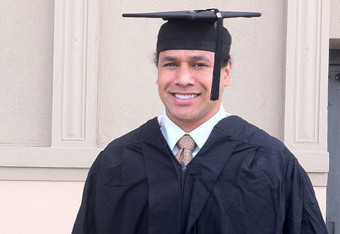 Troy Polamalu: Steelers Star Safety Finally Earns Diploma from USC
By Nathaniel Uy (Featured Columnist) on May 13, 2011
5,683 reads 0 comments
Troy Polamalu Partakes in USC Commencement
Pittsburgh Steelers Pro-Bowl safety Troy Polamalu may have just missed out on adding a third Super Bowl trophy to his resume this past season but that hasn't stopped him from finding a way to improve during his off-time.
While Ochocinco was trying to ride a bull and Dhani Jones was auditioning to be the next voice of the AFLAC duck, Polamalu hit the books and finished what he started when he first enrolled at the University of Southern California, he earned his Bachelor's degree.
Although some athletes never look back after leaving college early for the riches of the NFL, Polamalu proves that he's one of the handful of guys that value his education.
He may have left USC for the 2003 NFL draft, but he still came back and got his degree. The twitpic photo is courtesy of ESPN's Arash Markazi.
Good for you Troy. You're a true leader and a great role model for the younger players in the league.
Congratulations!