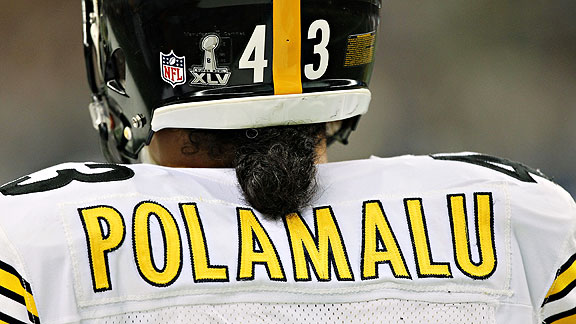 Troy Polamalu shakes his perfectly coiffed hair -- his famous mane is pulled back into a pony tail this evening, but it's still as bouncy as ever -- and laughs at the kudos he was getting Sunday evening.
Technically, the 30-year-old strong safety was being honored at the 26th anniversary of Sports Spectacular, an event that benefits the Medical Genetics Institute at Cedars-Sinai Medical Center. He was being toasted at the Los Angeles event alongside Blake Griffin, Lindsey Vonn and Landon Donovan, but in this moment, on the event's red carpet, he was getting props Sunday night for finally finishing college and getting his degree from USC.
"For one," he starts in, when asked why it was so important for him to finish, "it was a promise I fulfilled to my aunt and uncle who raised me. Second of all, I've always believed that education was important, but I never could speak about it with any authority, you know? I can't tell a kid, 'go to college and school's the most important thing,' when I have no authority to speak with it. It's just like if I were to speak with anybody before I had children about being a father; it's very similar to that. But now I feel very blessed and it's a very big fulfillment for myself. You could spend a lot of your life trying to achieve certain goals, but school is a huge part of that. And if you fall short it's a very big disappointment."
Polamalu says that walking across the stage last week to receive his bachelor's degree in history -- it happened eight years after he left the university to join the NFL in the 2003 draft -- was humbling.
"It's great to just be considered one of everybody, you know? Because in the world we live in today, people try to put somebody ahead of anybody else. Somebody's more important, less important," he says. "But I was just one of five or six hundred students that walked across the stage and that was a huge blessing for myself, but very humbling as well."
He laughs again and hedges when asked how graduating ranked to playing in the Super Bowl.
Then he concedes, saying "it might've felt better if I would've completed it on time! I didn't complete it on time. The other part of it is I just finished school. I should've finished school a long time ago, so there shouldn't be so much press about, 'hey, he finished school! He went back to finish school!' When it's something I should've done in the first place. That's like saying, 'man, he didn't cheat on his wife!' You know what I mean? It's like, well, you're not supposed to."
Moving forward, Polamalu is thinking about how he's going to put that degree to good use. And he does have a plan.
"I want to teach, ultimately. That was something I wanted as much as playing football."