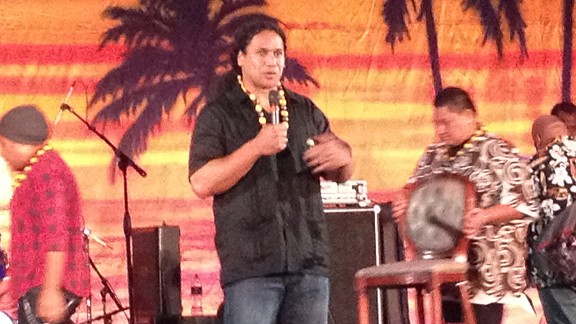 October, 27, 2012
Oct 27
10:30
AM ET
By Lynn Hoppes | ESPN.com
Recommend
Courtesy of Troy Polamalu
On Friday in Pittsburgh, Steelers safety Troy Polamalu held a luau to benefit a couple of charities.
Pittsburgh Steelers safety Troy Polamalu is getting a little restless, missing his fifth game of the season, this Sunday against the Washington Redskins, because of a nagging calf injury.
To keep busy, Polamalu has been spending time with his various charitable ventures. On Friday night, Polamalu held a Polynesian luau to benefit the Harry Panos Fund of the Pittsburgh Foundation and the Troy Polamalu Football Camp.
"To be honest, this is the first fundraising charity event I've ever hosted," said Polamalu, working with Head & Shoulders as title sponsor. "I've been to quite a few, and most times it's just players signing autographs. This is more to showcase the Polynesian culture and help some worthy causes."
Also, during the luau, Polamalu unveiled one of his online courses -- Art Appreciation -- from his School of Deeper Learning.
"This was a chance for everyone to have a good time and learn something," Polamalu said.
Playbook had a few minutes with Polamalu to talk about the event and some "news" that came out this past week.
You're going to miss Sunday's game with the calf injury. What's it like on the sideline for someone as energetic as you?
"I definitely want to be out there. I spend my time in the coach's ear telling him to run this play or that play. In fact, they may want me more on the field because I'm so annoying on the sideline. I try to stay mentally engaged, seeing how the opponent is trying to expose our defense and how we can counter that strategy."
This past week, you were voted the most liked player in the NFL. What is your reaction to that?
"To be honest, my first reaction is that I don't even like myself! Seriously, it's always nice to feel really appreciated. The message I tell to young players is that you represent more than yourself when you're on the field. You represent your family that raised you, your friends, your community that you come from and your culture. That's all I try to do is live my life. I was raised with the fundamental values of my culture, and I'm really conscious of that."
On the other side of the coin, SI.com had a story that you were No. 17 Most Overrated.
"For me, in that poll, they are probably right! I should have been ranked higher! In one sense, they have figured out what I've known all along."
But, outside the injury, it's all good, right?
"I'm blessed, for sure. The one thing that football has given me is an appreciation for a lot of the experiences I have. Even the little things like adversities such as injuries. You now can take a step back and look on your life. I'll be back to playing football soon."