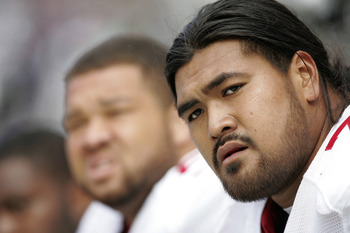 Mike Iupati has been nothing but rock solid since arriving in San Francisco in 2010.
The 49ers drafted the former Idaho Vandal 17th overall in hopes that they could transform the 6'5", 331-pound mauling guard into an All-Pro-caliber force on the gridiron.
After just two seasons, Iupati is heading firmly in that direction.
Iupati is already one of the nastiest and most effective run-blocking guards the NFL has to offer. B/R's Matt Miller ranked him as the second-best left guard in the league for the 2011 season.
Bonuses aside, Iupati will earn a measly base salary of $703,500 and ranks as just the 45th highest-paid guard in the NFL.
Surprisingly enough, he's just the second-most underpaid 49er on the current roster.
Can you guess who's No. 1? You'll find out soon enough.