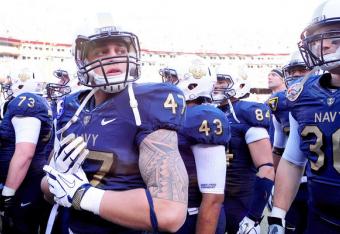 By Scott Carasik (Featured Columnist) on September 1, 2012
Maika Polamalu has the ability to be one of the best stories in college football based on his lineage and his school. However, he isn't making an impact for Navy's football program this season. As an offensive player, he is buried on the depth chart and is just seeing time on special teams.
He needs to change something to become the player that he was recruited to be, when he was a two-star prospect according to ESPN. However, the question is what change he needs to make in order to be successful off the field.
Is it his inability to balance the military aspect of his college experience with football? Is he having trouble living up to the legendary bloodlines? Or could he just be completely out of position and need to switch to defense?
Military College teaches lessons that can't be found on the field.
While this may seem unrelated to on-the-field, it's a huge aspect in the personal development off-the-field that would lead to his eventually becoming a starter. It instills hard work, discipline and toughness into the gentlemen (and women) who go through the training.
Teams like Navy, the Air Force Academy, the Citadel and Army tend to be more disciplined on-the-field than other teams because of their off-the-field training. Polamalu using the discipline and hard work that he learns as a Midshipman and taking it to the field will only help him start eventually.
However, the main issue could be balancing the different aspects of military college life. The balance of football, classes and essentially a full-time job in the military aspect of the academy create a unique situation that few people are able to balance completely.
Legendary bloodlines aren't always a guarantee to a starting spot.
Despite being the cousin of Troy Polamalu, son of Aoatoa Polamalu, and nephew of Kennedy Pola, he hasn't earned the starting spot at fullback yet as one would expect him to be able to. Though, he has a ton of talent and has already been contributing on special teams as a gunner.
His issue though is that he isn't even in the top three on the fullback depth chart according to CSTV.com's Navy football depth chart. It will tough for the young Polamalu to earn a starting spot when he is behind multiple underclassmen.
Could a position change be for the best?
At 6'0", 218 pounds, he has the size to be a top notch linebacker. He also has a frame that could add another 20 pounds to it while maintaining his already good speed. Once he realizes that he should try to play a different position, linebacker should fit well as it's a similar position to fullback.
It's also the position that would make sense based on his family lineage. His dad played at defensive tackle and his cousin as a safety, so linebacker is a logical progression for his size. Who knows, maybe he could end up in the starting role as a weakside linebacker and eventually in the NFL?