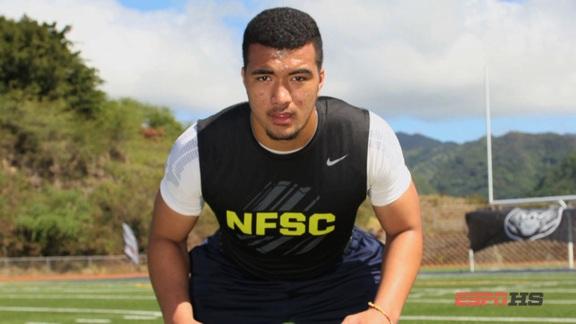 Stanford recruiting roundup
February, 14, 2012
By Kevin Gemmell
Has everyone exhaled following an epic signing day? Good, now it's time to start looking ahead to the 2013 recruiting class.
Even before Isaac Savaiinaea (Honolulu, Ha.) had a breakout performance at the Nike Football SPARQ Combine in Honolulu last month, the 6-3, 231-pound inside linebacker already had a Stanford offer, writes ESPN's Mitch Sherman. Said Savaiinaea:
I've been getting more [media] attention, but it's been pretty much the same with attention from the schools. They're all great schools. Stanford is really the one that stands out for me, but I'm going to wait for more offers to come in.
To go with his Stanford offer, Savaiinaea has offers from Arizona, Colorado and Hawaii. He attends the Punahou School, the same school as 2012 Stanford commit, defensive end Luke Kaumatule.